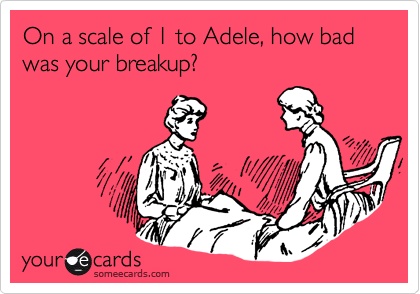 He was disabled for almost the entire last year of our relationship. I poured myself into him. What does he need? What can he physically do and what can't he do? How can I help? What doctor do we see today? What paperwork does the attorney need related to the accident? Everything from doing all of the house work b/c he couldn't stand more than 2-3 minutes at a time or even carry out the trash to making sure he was taking his medicine and following doctors orders. The small things like cutting his hair for him to the bigger things like financially caring for the two of us. I do not have kids but I have a new respect for all parents who give so selflessly.
He became depressed and miserable. The injury caused him to lose his job, sense of self, pride, etc. He could no longer do the things that he once did with ease. He lost over 20 lbs. I tiptoed around him b/c he was easily upset. It was terrible for him. I can't even imagine how hard it was to be dependent on someone else for so much. How hard it was to be in that much physical pain day in and day out. To want to do something as simple as wash the dishes or unload the dishwasher and physically not be able to do it.  It was tough, very tough, for him and it was exhausting for me.  I completely lost myself in that last year. Completely. In retrospect, I am not sure a single one of my needs was met. Not a single one. I didn't see it at the time but I totally see it now.
Following his surgery and long painful recovery he began to feel ever so slightly better. After a short time he balled up all the things I had poured into him, handed them back to me and said "Welp, thank you very much Ma'am but I won't be needing these things anymore" and moved out. He was in another serious relationship about a month later and now, 3 months later, is engaged to be married to her.
(Now, I know how that sounds and I also know that the ending of a relationship never just happens. You never go to bed one night and suddenly it is over. "Goodnight Honey I love you. No, I love you!! No. No. You're wrong! I love YOU more. No, no, no, you're wrong… now get out." A breakup isn't an armed robber that pops up out of nowhere and forces you to hand over all your money and your happy relationship.  It happens slowly and all the signs are there and all the talking about it is there too. We all know this.)
When he left I finally stopped doing-doing-doing and just took a breath. It occurred to me that I was empty. How had I not noticed this before? I had nothing to give to anyone, myself included. How do you start the repairing process when you have nothing to start with? I was grasping for a thread to start building from and was coming up with nada. I eventually reached out to a friend for advice and as a result I, thankfully, got a new mantra to repeat to myself over and over to change-up the story in my head. I also did a friend inventory. I put distance between myself and those that are on the needier side. I surrounded myself with more of the nurturers and givers. As sad as I was I also silently thanked him for leaving. I'd probably be dead by now if he hadn't. Ok, not really dead but you get the point. A puddle of nothing on the floor. Still too dramatic? An empty shell of a woman? A hollow Easter bunny? Empty like the day after Christmas? Sorryimnotsorry you guys, I am a middle child and a student of theatre.
The truth is, yes, I still feel drained at times but I am also a million pounds lighter in a different way. I am not tied to someones every waking breath. You mean, I only have to think about MYSELF??? Geez, that sure sounds great! At first I wasn't even sure I remembered how to do that. It felt like I was in a room full of people and didn't know how to stand or what to do with my hands. *What looks cooler, more nonchalant, hands by my side? in my pockets? arms crossed…* On occasion I still deal with the standard sadness from a breakup, although it is less and less now.  It has been a huge adjustment to my daily routine. I had to learn to sleep alone again (currently writing this post from the MIDDLE of the bed! Fuck yeah!) Do I battle with my ego from time to time thinking about being replaced by someone else in his life already, yep. But, REALLY, who cares about that shit? He is happy, right? I am happier, right? Ok, great. Good. I recognize any negative thoughts around it as my ego working really hard to make me some sort of victim or keep me angry, thinking I am some sort of individual in this world full of people, separate from everyone else when universally we are all connected.  I also know first hand that the hurt and anger and all of that shit goes away when you recognize it as ego only.
Am I dancing-in-the-grocery-store-aisle happy? Some times.  But more importantly I know that every day is going to make its mark on me no matter what my personal struggle is at the time. That is a beautiful thing unless you are all anti-personal growth, and if you are, gross.  It is these life experiences that put me on the path to being one of those amazing senior citizens that fart in public, wrap their hair in hot pink turbans, wear the craziest costume jewelry on the planet and always dance in the aisles at the grocery store. Look me up in 40 years and watch me moonwalk over to my favorite fiber cereal.
Do you have a great breakup story? A selfie of yourself with makeup running down your face? An encouraging word to share? I wanna hear it! Comment below.